Benzoyl peroxide (BP) offers good efficacy against superficial inflammatory lesions since it has the ability to rapidly suppress the Propionibacterium acnes bacteria present in the skin. BP also has the advantage of not being associated with antimicrobial resistance. For this reason, it is often used in combination with other oral or topical antibiotics to increase efficacy and minimize resistance. It has been shown that BP in combination with topical erythromycin or clindamycin is more effective and better tolerated than either BP or the topical antibiotic alone.

BP also works exceptionally well when used in combination with a topical retinoid. In this case, it is probably best to use the retinoid in the evening and BP or a topical antibiotic or combination of BP/topical antibiotic in the morning because this will minimize the risk of inactivation of the retinoid. Also, it is a good idea to put clothing on first, especially if they are to pass over the face in order to minimize contact and the possible bleaching of the fabric that may ensue. Newer formulations are being developed, and further testing is being done to show that these products can be used simultaneously without increased irritant reaction or inactivation of any of the active ingredients.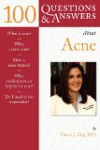 More About this Book
100 Questions & Answers About Acne
100 Questions and Answers About Acne provides you with all the information you need to manage your complexion problems. Written by Dr. Doris J. Day, a world-class expert in the field, this clearly...
Continue Learning about Antiacne