Most of the physical signs of aging such as wrinkles, stooped posture, stiff and achy joints, obesity and poor vision are brought on prematurely by environmental factors and the practice of particular bad habits. This means that unless genetically programmed to do so, many of the cells of your body are not intended to degenerate until very late in life—if at all. Excessive alcohol consumption, cigarette smoking, pessimism, anger, impatience, pollution, excessive exposure to sunlight, inactivity, prolonged exposure to stressful situations, and poor nutrition all lead to cellular damage that starts and accelerates the aging process.
Continue Learning about Anti-Aging Skin Care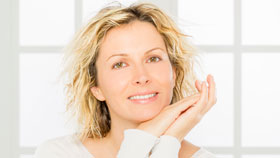 The science of anti-aging has come a long way. Learn how to slow aging, feel and look younger and keep your skin in great condition.