Wrinkle creams can range in price from $8 to $80—and there are even some that top out at $400. But when tested, the $400 cream was no better than an $8 one. Beyond that, results when using any anti-wrinkle cream leave something to be desired, especially if your wrinkles are deep set. Rather than trying to reverse the effects of time, try preventing wrinkles in the first place. Use sunscreen and drink plenty of water—these are two of the best wrinkle fighters, and they're not nearly as expensive!
This content originally appeared on
doctoroz.com
Continue Learning about Anti-Aging Skin Care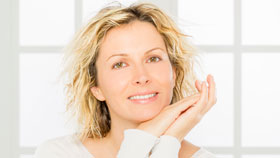 The science of anti-aging has come a long way. Learn how to slow aging, feel and look younger and keep your skin in great condition.