In extreme cases, such as if somebody has purposely injured us or someone we love, it is hard to remember that -- or understand how -- the other person is not responsible for our anger or rage. Although we certainly have the right to be angry, and this anger is natural and needs to be felt, we are more likely to retain our power if we do not claim victimization. Be careful not to blame yourself either. Remember that there is a major difference between blame and responsibility!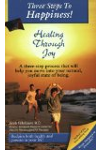 More About this Book
Three Steps to Happiness! Healing Through Joy
Happiness is our natural state of being. It is who we are. This happiness is obvious when you look at little children before they take on society's beliefs. Their natural state is to feel all of...
Continue Learning about Anger Management