Anemia can be caused by a number of different conditions, such as internal bleeding, other vitamin deficiencies, or chronic illness. Iron deficiency is the most common cause, though. Many people, including about 20 percent of women, don't have enough iron in their bodies.

There are a number of reasons you could develop iron-deficiency anemia. These include:

• Blood loss, especially in women who lose a lot of blood during heavy menstrual periods

• Not enough iron in your diet

• Inability to absorb enough iron from foods, especially in people who have digestive tract diseases, ongoing blood loss from another health condition, or have had gastric bypass surgery.

• Increased need for iron, especially in children who are growing rapidly or pregnant women who need iron for their baby.
Watch this video to learn more from Dr. Mehmet Oz about causes of anemia.



Anemia is one of the most common blood conditions in the United States affecting 3.5 million people in any given year. Watch this video from Dr. Randy P. Martin to learn about the causes of anemia.


Iron deficiency is the most common cause of anemia; however, it must be pointed out that anemia is the last stage of iron deficiency. Iron dependent enzymes involved in energy production and metabolism are the first to be affected by low iron levels. Serum ferritin is the best laboratory test for determining body iron stores. Several researchers have clearly demonstrated that even slight iron-deficiency anemia leads to a reduction in physical work capacity and productivity. Nutrition surveys done in the U.S. have indicated that iron deficiency is a major impairment of health and work capacity and, as a consequence of this, an economic loss to the individual and the country.
Supplementation with iron has shown rapid improvements in work capacity in iron deficient individuals. Impaired physical performance due to iron deficiency is not dependent on anemia. Again, the iron-dependent enzymes involved in energy production and metabolism are impaired long before anemia occurs. In the developing child, even slight iron deficiency can lead to learning disabilities. The developing nervous system undergoes significantly more energy-consuming activity than a mature nervous system. Adequate iron is imperative to provide adequate energy for its proper growth and development.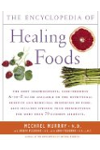 More About this Book
Encyclopedia of Healing Foods
From the bestselling authors of The Encyclopedia of Natural Medicine, the most comprehensive and practical guide available to the nutritional benefits and medicinal properties of virtually everything...
Continue Learning about Anemia