In the two largest randomized studies on whether use of dehydroepiandrosterone (DHEA) would reduce the dose of other steroids needed to treat lupus (an autoimmune disease), the need for other steroids was reduced, but some worrisome problems also occurred. In this study, observation of women given DHEA or Prasterone (one specific brand of DHEA) lasted one year. Because some of the DHEA is metabolized to testosterone, 41 percent of these women had acne, whereas only 19 percent taking placebo had acne. Abdominal discomfort was commonly reported and was successfully treated with a medication that decreases stomach acid. One study also reported that higher DHEA levels correlated with a higher incidence of breast cancer in postmenopausal women. A study at Johns Hopkins found that women who had high levels of male hormones (androgens), such as DHEA and its derivatives, had higher incidences of ovarian cancer. That raised a red flag. Doctors worried that DHEA might be tied to other kinds of cancers as well.

In addition, DHEA is the precursor to androgens, and high levels of androgens have been linked to prostate cancer in men. DHEA may also increase pituitary gland tumors in the brain. Since DHEA functions as a growth hormone under certain conditions, it may cause isolated precancerous cells to transform into rapidly growing tumors. Higher androgen levels can also increase the problem of male pattern baldness-certainly not a dangerous condition but one that might make you look, if not feel, older.

DHEA seems to play no role in heart disease. It doesn't seem to retard aging of the blood vessels, although long-term studies haven't been done yet. As for the sexual powers attributed to DHEA, the one controlled study on the use of this supplement showed no indication that DHEA improved libido or sexual desire. As for other claims that DHEA increases muscle mass, helps you lose weight, and improves one's mood, these seem to be more wishful thinking than proven scientific results.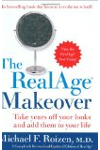 Continue Learning about Androgen