Our bodies are one huge computer so when you decide to add or delete something you are using "intent".
An example is when you lose someone or something close to you and you grieve for this. After YOUR appropriate time to heal you may decide you need to move on but the tears still show up.
By focusing intent on certain acupressure points using energy work and working on positive verbal statements you can create an environment where, when you think of the person/animal/issue you smile and are grateful they were part of your life.
I just did this when my 15 year old Labrador passed.
Intentional healing uses your awareness to the pain of an injury to aid the healing. The first step toward healing a cut in the skin is the awareness of pain. Pain is something most people instinctively shy away from, but without pain no healing would be possible. Once you are aware of pain, you can bring your focused attention and knowledge to the task of healing the cut. You take directed and educated steps to clean and protect the wound and bring the edges together, thereby transcending the isolation -- the separation -- created by the cut. All these steps are necessary for what Elliot Dacher, M.D., calls "intentional healing" in his book, Intentional Healing. He calls for directing the power of your mind toward the healing process. Intentional healing may be directed toward emotional and spiritual healing as well as physical healing.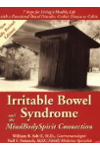 Continue Learning about Alternative Medicine