It's vital that you tell your doctor about the complementary and alternative medicine (CAM) treatments you're using. We know from research that about three of four patients are using some form of alternative medicine right now, whether it's nightly prayer or gulping the herb yohimbe in hopes of better bedroom sessions. But how many patients tell us that they're using alternative medicines? Fewer than one in five. That rankles us, because...
We're in the healing business and detest being kept in the dark in case you've found a great thing.
We could send you home with a prescription that could send you to the morgue.
So tell your doctor! Sure, you may not feel that it's critical to call me on a Saturday and say, "Doc, I forgot to mention that I say five Hail Mary's every night" (though we'd actually appreciate knowing that for academic sake, since prayer is being clinically studied). We're chiefly concerned with anything you swallow, inject, absorb, or undergo that has a physical component to it, obviously.
But we understand your reluctance to tell us; most patients think we'll just scoff at an alternative treatment, even if we don't know a thing about it. Those patients are sometimes right, if they're seeing one of the more rigid doctors with a dusty diploma. Other physicians will react with great interest, they'd find.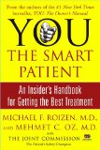 Continue Learning about Alternative Medicine