According to one study, the strongest correlation between asthma and any other risk factor is with allergic rhinitis. People with asthma also have allergic rhinitis 80 percent of the time. I have a feeling that it may be even higher than that. In any case, some of the preparations that are used to treat allergies are also used to treat asthma, although in different chemical configurations or delivery systems.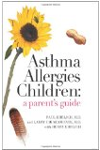 More About this Book
Asthma Allergies Children: A Parent's Guide
Asthma and allergies are at epidemic proportions. It doesn't have to be that way. Two experienced pediatric allergists tell everything a conscientious parent needs to know about these conditions,...
Asthma and allergies can go hand in hand due to having similar inflammatory reactions. Asthma is a chronic inflammatory disease of the airways in the lungs that can cause recurring symptoms such as wheezing, coughing and shortness of breath. Due to the chronic nature of asthma and the inflammation it causes, it can lead to changes in the airways, including an increased number of white blood cells. These white blood cells can lead to increased reactions from the immune system and increased inflammatory response within the lungs.
When someone is in contact with an allergen from the environment, it can cause an inflammatory response in the airways that can present as an asthma attack due to inflammation and constriction of the airways. The simplest explanation is that both allergies and asthma are both inflammatory reactions.
Allergies and asthma are both examples of "atopy," which is a term that means your genes make you more likely to develop allergies. People with atopy may have a changed immune system that tends to get turned on, or triggered, by allergens rather than developing a tolerance to them.
Allergies and asthma often go hand in hand because people with either condition tend to have elevated blood levels of a chemical called IgE. It's this compound—along with a few other substances—that produces the symptoms of nasal allergies as well as other closely related allergic conditions like eczema and conjunctivitis. And in the case of allergic asthma, IgE and those related chemicals cause airway swelling and inflammation, which can lead to an asthma attack.
Continue Learning about Allergies