Seek immediate medical attention! If you're allergic to bee venom, a single sting can cause a serious reaction or even death. Early warning signs include pain, redness, swelling, and itching around the site. You may develop hives or a rash. Dangerous symptoms include wheezing or trouble breathing, chest tightness, and lightheadedness and dizziness. Your face, lips, tongue, or throat may swell.

You'll need an epinephrine injection, preferably before symptoms become severe. If you have a history of anaphylaxis, always carry an epinephrine auto-injector (EpiPen™) and learn to recognize warning signs early.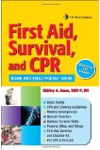 More About this Book
First Aid, Survival, and CPR: Home and Field Pocket Guide
Be prepared for first aid care and survival in any setting-at home, on the road, outdoors, while boating, hiking, or camping. From performing CPR on an adult, child, or infant to dealing with bleeding and shock, cuts and broken bones, heart attacks, emergency childbirth, poisoning, drowning, scuba diving mishaps, wilderness survival, and natural disasters such as tornadoes, wildfires, floods, and earthquakes. This portable, waterproof guide helps you quickly find the information you need to develop a plan of action for assessing and treating all kinds of first aid and survival emergencies. A special feature includes pet safety describing how to assemble a pet first aid kit, performing CPR on a dog and cat, and keeping pets safe during natural disasters. Keep a copy in your home, car, boat, camper, or backpack and be "ready" when emergencies occur.
Anaphylactic reactions are severe allergic reactions that can frequently, but not always, be fatal. It can occur in people who have had a prior allergic reaction to, for example, a bee sting. It can also happen to a person at first exposure, though this is rare. When this happens, it is important for the person to get to the nearest hospital emergency room as soon as possible. People who have had prior exposure and reaction should always carry an EpiPen and know how to use it.
Continue Learning about Allergies