There is no specific test to predict the likelihood of anaphylaxis, although testing may provide some guidance as to the severity of the allergy. Experts advise those who are susceptible to anaphylaxis to carry medication, such as injectable epinephrine, at all times, and to check the medicine's expiration date regularly.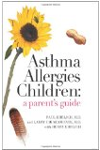 More About this Book
Asthma Allergies Children: A Parent's Guide
Asthma and allergies are at epidemic proportions. It doesn't have to be that way. Two experienced pediatric allergists tell everything a conscientious parent needs to know about these conditions,...
Continue Learning about Allergies