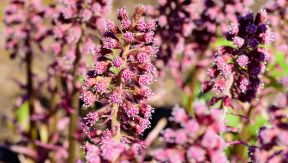 If you've got nasal allergies, you know what a godsend antihistamines, inhalers, and nasal sprays can be. This herbal remedy is winning votes now, too.
It's called butterbur. In a recent small study, butterbur tablets held their own -- helping relieve sneezing, congestion, runny noses, and itchy, watery eyes. But there are cautions . . .
Best Approach to Butterbur
Extracts of butterbur may help ease allergy symptoms by inhibiting the production of inflammatory chemicals called leukotrienes -- something some allergy medicines do as well. But only a handful of short-term studies have been done on butterbur. So if you're interested in the herb, it's important that you talk with your doctor first -- especially since butterbur contains compounds that can be toxic to the liver. (People with liver problems are obvious noncandidates.) Also, butterbur could make ragweed allergies worse because the herb shares similarities with that plant. One bonus with butterbur? It didn't cause daytime drowsiness in a recent study. (Sleep better through an allergy flare-up with these tips.)
More Ways to Soothe Your Sinuses
Follow your doctor's advice regarding allergy medication. Then, add these tips and tricks for keeping allergy symptoms under control.