Immunoglobulin E (IgE) is the main antibody seen in allergic disease. Its primary role is thought to be defending against parasites. Levels are often checked to determine the degree of allergy or atopy a patient has. Elevated levels often correlate with severe eczema.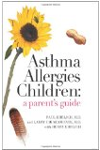 More About this Book
Asthma Allergies Children: A Parent's Guide
Asthma and allergies are at epidemic proportions. It doesn't have to be that way. Two experienced pediatric allergists tell everything a conscientious parent needs to know about these conditions,...
Continue Learning about Allergies Symptoms