While some people medicate their emotions with something from the freezer, others do it with something from the bottle. Make sure you or someone you love doesn't have an alcohol problem that's masking a depression problem (or is an addiction in and of itself). You can do so by asking these questions. Answering yes to any of them is a red flag.
- Have you tried cutting down on drinking, but failed?
- Have you ever been annoyed by someone criticizing your drinking?
- Have you ever felt guilty about drinking?
- Have you ever taken a morning eye-opener (tailgating parties excluded)?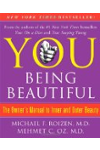 Continue Learning about Alcoholism