To cut calories from alcohol: Make a wine spritzer with half the wine and seltzer, or have a vodka cocktail with a twist or with soda water. In this video, I will explain how to avoid lots of sugar when you drink.
Watching your weight doesn't mean having to give up alcohol completely. In this video, Hungry Girl author Lisa Lillien gives waistline-friendly drink and mixer ideas.
Here are some ways to lower the calories you get from alcohol:
Switch from regular beer to light beer.
If your drink of choice is made with tonic, switch to club soda instead; if it's made with cola, order it with diet soda.
Order a margarita on the rocks rather than a frozen margarita.
Alternate between your alcoholic beverage of choice and a glass of seltzer or water.
Before you go out for a drink, have a snack, like a piece of string cheese with fruit, a cup of nonfat yogurt and a piece of fruit, or a slice of cheese with several whole-grain crackers. It will help you drink less.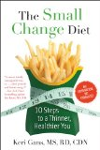 Continue Learning about Alcohol & Health