Adoption is more popular among Americans than ever before.
Each year, about 125,000 native-born children are adopted, and another 23,000 children or so are adopted from countries outside the U.S.
If you adopt a child through a U.S. agency, you should receive a complete medical record for your child to share with your pediatrician. Unfortunately, medical records for children adopted from other countries are not always complete or reliable, and usually the only source of information is the agency or orphanage from which you adopted. Nevertheless, try to obtain as much information as possible for your child's medical records.
First, you want to learn about the birth parents, including their age, height, weight, ethnicity, education (which can impact their health care), and any medical conditions the mother and father had.
Second, ask what health care the baby has had since birth. Try your best to get immunization records and growth charts.
From The Smart Parent's Guide: Getting Your Kids Through Checkups, Illnesses, and Accidents by Jennifer Trachtenberg.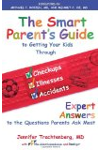 Continue Learning about Adoption