Attention deficit hyperactivity disorder (ADHD) is a recognized disability. Teenagers with ADHD qualify for special services or accommodations at school. Three federal laws apply to these teens:
The Individuals with Disabilities Education Act (IDEA) (1975)
Section 504 of the Rehabilitation Act of 1973
The Americans with Disabilities Act (ADA) (1990)
Parents must be aware of state and local laws and regulations. They may want to evaluate their teens for any needs for special education or related services. These may include behavioral analysis, psychological and educational testing, speech/language evaluation, and occupational therapy assessments.
Advocacy for your ADHD child is imperative. And that advocacy must include insuring that your child is not punished for his impulsive behavior. Punishment, time out, isolation, staying in for recess, missing out on what other kids are doing will do no more than increase the stress in your child and make matters worse. Most schools have blanket policies for misbehavior but the ADHD child needs to be dealt with differently. Learn and then advocate for problem solving methods to engage your child in the process of going over the incident and coming up with a better way of handling the problem. Your ADHD child will respond because he is likely very smart and wants to be engaged in a logical and fair process.
A child with attention deficit hyperactivity disorder (ADHD) is truly fortunate to have been given the natural ability to engage in reverie or imaginative thought, to be bold and daring in wanting to bring his imagination into the world, and to be sensitive to inspiration. Despite these gifts, he may struggle in school. This is because, in the early years, traditional educational systems follow a "regurgitation" model. Children are expected to take in material presented in a rigid format and "regurgitate" it back to the teacher, to prove they were listening attentively. This style of learning clashes with the great gifts your child has been given.
One of the most often documented differences between children diagnosed with ADHD and other children is that ADHD children do not persist as long as other children do in academic tasks. Studies have found that ADHD children who are asked to solve cognitive puzzles will have less success and will quit working more often than others. In addition, observers noted children with ADHD putting forth less effort and being less cooperative than those who do not have ADHD. Talk with your child's teachers to see if you can develop a plan for helping your child succeed in the classroom.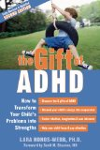 Regardless of whether your child is a bit "more spirited" or truly does have an attention deficit (ADHD), he will need to learn to focus and stay on task longer at school. Here are solutions that are often overlooked that may help your child as he or she heads back to school this year.
Keep to a schedule. Children who have trouble paying attention benefit from routines. Those repetitive schedules create predictability, which reduces stress and helps kids focus. The trick is to find the best time for your child's homework, bed, dinner, etc., based on his attending ability. Warning: That time may be different from your other kids. Then post those times on the refrigerator or bulletin board as a reminder and stick to the same daily routine as best you can.
Change sleep patterns. The solution for your child's attention problems just may be easier than you think. Sleep-deprived kids often have trouble paying attention as well as display symptoms of impulsivity and hyperactivity. Research shows that a simple bedtime routine switch can have great results in stretching kid's attention spans.
Turn off the TV when not used and reduce distractions. Kids with short attention spans are distracted easily by noises, smells and images. So tune in a little closer to determine what things hinder your child's concentration. (for instance, the flickering overhead lights, the cuckoo clock, a barking dog, the neighbor kids yelling) and reduce what you can. Also, turn off the television when it is not watched.
Set up the ideal work place. Once you discover what helps your child attend best, set up that study spot based on his ideal working conditions. Usually it's a smaller, more confining space with no windows, hallways or noise contributors. Pushing a desk against a blank wall can also reduce distractions. Some kids benefit by using earplugs, earphones or even listening to a certain type of music. Might these help your child? Involve him in that "discovery process" so he recognizes what helps him learn and then keep experimenting until you find the best options. Hint: One dad cut away the side of a refrigerator crate and put a small desk inside at his son's suggestion. It did the trick.
Continue Learning about ADHD