Attention deficit disorder (ADD) adults are often wildly inappropriate and irreverent. They can be the funniest, most interesting people we know. While many of us struggle with shyness, people with ADD are uninhibited, the loose cannons in the crowd. Many ADD adults were once class clowns. Hilarity separates itself from run-of-the-mill funniness in its unbelievable quality. Sometimes the adventures of ADD adults—and even their serious efforts—are hilarious. For a person punching a time card, the various ways ADD adults fill up their time and nurse their creative energies are often unbelievable. We may watch and wonder, "Is this for real?"
I have been contacted by droves of adults with ADD. I'm always struck by their energy, the apparent inappropriateness of their behavior, their resilience, their grandiose ideas, and how very flat my world looks when compared to the ones they've painted for me. These magnificent adults have tested my capacity to set limits, piqued my interest, and sparked my sense of humor in ways that I could never have imagined. I've come to see that ADD adults not only build castles in the sky, they build many castles in the sky—and somehow juggle all of them at the same time.
These adults with ADD had minds like da Vinci and Michelangelo, minds that synthesized information from many domains, minds that didn't limit these adults to a single profession or identity. These were people who had chosen not to follow trends, people who had chosen instead to march to the beat of their own drum, seemingly indifferent to the approval—or lack thereof—of others.
Below is a list of qualities or elements that adults with attention deficit disorder (ADD) typically need:
Excitement
Physical activity
Constant stimulation
Innovation
Inventiveness
The opportunity to mix it up
Flexibility
Creativity
The ability to create structure rather than follow directions
The ability to space out
Frequent breaks
Self-determination
Access to natural world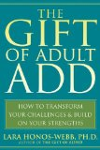 Continue Learning about ADHD