John Muir, the great naturalist, believed that "transcendental daydreaming is fundamental, essential, the substantial enterprise of life." For the attention deficit hyperactivity disorder (ADHD) child, seeing daydreaming as an act of self-reliance rather than one of defiance is a huge reversal and will probably be wonderfully liberating for him. Children with ADHD often get into trouble for spacing out in structured environments. When your child is daydreaming, he is usually deeply in his imagination and processing relationships and events rather than tracking what's going on in the environment. This activity will demonstrate your respect for this mode of engagement.
Next time you are in the car with time to spare, discuss the quotation above with your child. Involving other siblings and the other parent would be great. Here are some questions to jump-start the discussion:
What do you think "transcendental daydreaming" means?
How could daydreaming be the fundamental enterprise of life?
How can daydreaming help you succeed?
Why does the world need people who daydream?
What great people can you name who are known to have been daydreamers?
What people do you know in your personal circle who daydream?
By having this discussion you will get your child thinking about how the common daydream can fuel the achievement of his goals. You will encourage your child to begin to honor his natural inclination toward dwelling in his imagination. As you begin to honor and accept this valuable skill, your child will feel more accepted and connected to you, improving your relationship and his behavioral acting out.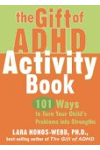 Continue Learning about ADHD