Although there are many potential motivations for inappropriate behavior, three are particularly common to children with attention deficit hyperactivity disorder (ADHD):

1. The need for attention.
2. The need to gain a tangible object or engage in a fun activity.
3. The need to avoid an unpleasant task or activity.
When children with attention deficit hyperactivity disorder ADHD behave badly, it is usually because they feel badly about themselves. Children with ADHD feel poorly about themselves in part because of the extreme emphasis on school achievement over all other talents and interests. One psychologist attributes the high rates of depression that accompany learning disorders to this emphasis: "In our modern technological society, where education is more important and more highly valued than ever, academic achievement and school-related intelligence have attained an importance that is probably far greater than ever before."

By conveying to your child that the label of ADHD means she has a gift, you can turn around both of these causes of bad behavior. As your child learns to value her difference, she will not need to act out her sense of inferiority or frustration. Also, if you can maintain your sense of closeness with your child, even in the face of apparently bad behavior, your child will no longer need to act out her sense of being alienated.

Just by transforming your vision of your child from disordered to gifted, you can facilitate a dramatic transformation in her. While it is predictable that parents of children with ADHD will at times feel anger, impatience, and frustration with their child, you can channel these feelings toward the culture's intolerance of your child's gift. You yourself can be transformed into a social activist as you become aware of how your child has been underserved by the current medical model and a failing educational system.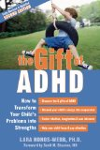 Continue Learning about ADHD