Becoming an advocate for your child with attention deficit hyperactivity disorder (ADHD) means not accepting other people's negative evaluations of her. In addition, it gives you the opportunity to tactfully offer an alternative way of understanding your child to the teacher or health care professional.

By becoming an advocate for your child, you work to develop a positive interpretation of behaviors. In so doing you can change other people's perceptions of your child, and your own emotional reactions to her will be more positive. As you practice this, you will also feel more empowered. You won't spend your time worrying whether others think you are a bad parent -- you will address the issue head-on and challenge it.

Becoming an advocate for your child gives you the potential to change the environment she experiences at school and, in so doing, reduce her bad feelings and thus the bad behavior she exhibits in response. By reframing your child's behaviors and traits, you may enlist teachers to shift their perspective and try out strategies that are less discouraging to your child.

Similarly, in addition to enhancing your relationship with her, you will improve her self-esteem just by becoming an advocate. Children internalize their parents' attitudes toward them. When you show your child that you are willing to go out on a limb to defend her, she knows she is worthwhile and will be more likely to work hard to demonstrate to you and her teachers that you are right in defending her. She will feel safe, protected, and loved. All of these lead to feelings of self-worth and a determination to do the best she can.

As you demonstrate that you are her advocate, your child will internalize the ability to reframe her self-understanding in positive ways. This ability is the basis of self-esteem. In addition, she will internalize the ability to defend and protect herself. This skill will serve her in two ways: first, she will be able to soothe herself; second, she'll be able to stand up for herself. These abilities will become a foundation of her ability to create positive mood states and to change her internal state in the face of negative feedback.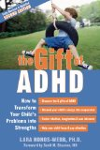 Continue Learning about ADHD