Many schools offer support for children with attention deficit hyperactivity disorder (ADHD) and behavior disorders. Approximately 25% to 50% of children with ADHD have a co-existing behavior disorder. Most commonly, these are oppositional defiant disorder (ODD) and conduct disorder (CD). Behavior disorders can be disruptive in the school setting, leading to fights, anger management issues, and other antisocial actions and attitudes. Schools may use behavior modification techniques to address issues with problem behaviors in children with ADHD. The National Resource Center on ADHD reports that a carefully planned classroom structure might positively influence children with ADHD and behavior disorders. Behavior modification strategies, including a system of rewards and consequences, can be used, as well as the following:
Fostering a supportive classroom environment
Encouraging healthy communication and peer relationships
Being clear and specific regarding behavior expectations in the classroom
Addressing problem behaviors promptly
For children with severe conduct problems, a treatment team may be necessary to address problem behaviors.
Schools play a big role in helping kids with behavior disorders and ADHD. Behavioral approaches in the classroom for children with ADHD are well established. Schools can develop educational programs that fit the needs of your child and provide access to a counselor who can work with your child one-on-one. Not to mention, you and your child's teacher can team up and share techniques and strategies for helping your child. We know what works, but teachers need to be trained in these techniques. If your child's teacher hasn't been trained, he may need some education. If you're lucky, you and your child's teacher can team up and share what you've learned to help your child learn and make friends at school.
Continue Learning about ADHD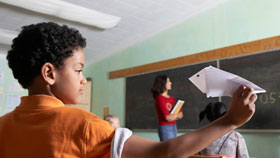 Whether you refer to it as Attention Deficit Disorder (ADD) or Attention Deficit Hyperactivity Disorder (ADHD)it's the same disorder. Impulsive behavior, hyperactivity, difficulty concentrating are symptomsand children and adults ...
can have them. Can't sit still, can't finish projects, always forgetfulthese are also part of the pattern. With medications and therapy, it's possible to control these impulses and live a more normal, productive life.
More