Attention deficit hyperactivity disorder (ADHD) is a recognized disability. Teenagers with ADHD qualify for special services or accommodations at school. Three federal laws apply to these teens:
the Individuals with Disabilities Education Act (IDEA) (1975)
Section 504 of the Rehabilitation Act of 1973
the Americans with Disabilities Act (ADA) (1990)
Parents must be aware of state and local laws and regulations. They may want to evaluate their teens for any needs for special education or related services. These may include behavioral analysis, psychological and educational testing, speech/language evaluation, and occupational therapy assessments.
Continue Learning about ADHD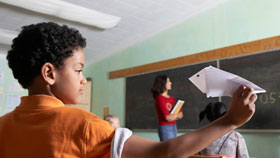 Whether you refer to it as Attention Deficit Disorder (ADD) or Attention Deficit Hyperactivity Disorder (ADHD)it's the same disorder. Impulsive behavior, hyperactivity, difficulty concentrating are symptomsand children and adults ...
can have them. Can't sit still, can't finish projects, always forgetfulthese are also part of the pattern. With medications and therapy, it's possible to control these impulses and live a more normal, productive life.
More