All schools in the United States have programs for students with special needs, including attention deficit hyperactivity disorder (ADHD). Additional accommodations available to your child may include curriculum changes, different teaching methods, using a computer to write, having extra time to complete work, and many others.
If your child has attention deficit hyperactivity disorder (ADHD), he or she may be eligible for special accommodations at school. Several laws ensure that children with ADHD have a chance to succeed in school. All you have to do is contact the school.

Public schools must screen eligible children for learning disabilities. If your child has a learning disability, the school will identify ways to help your child during the school day. If your child has severe problems in school, he or she may get help from several specialists. School counselors can guide you in this process.

If your child does not have a learning disability, but still struggles in the classroom, talk to your child's teacher, who may be able to use behavior modification techniques to keep your child focused and on the way to success.
Current educational systems are plagued by insufficient resources, resulting in overcrowded classes, overburdened teachers, and inadequate support from school psychologists or social workers . Given these challenges, the medical model of dealing with attention deficit hyperactivity disorder (ADHD) provides the quickest fix. Providing medication to control children's behavior is easier and cheaper than developing schools that can respond to the individual needs of students.

The diagnosis of ADHD perhaps did not carry as much baggage in olden days as it does today, and teachers were free to respond to a child with ADHD as a unique individual rather than as a troubled child. Or maybe many teachers did not even know what the diagnosis meant or were not aware that he had been given this diagnosis. Today, these diagnoses follow the child from year to year, and of course every teacher knows precisely what to expect from a child given this diagnosis.

Because of this recent trend, any child who has a different learning style is most likely walking into the classroom, even in a new year with a new teacher, with a heavy load of expectations that are not in his favor. It's not surprising that his symptoms seem so consistent from year to year, from teacher to teacher, if you consider that he's walking into the same set of expectations.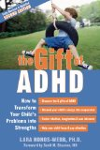 Continue Learning about ADHD