Children with attention deficit hyperactivity disorder (ADHD) are recognized as having a disability. They are eligible for special services or accommodations at school. These services fall under the Individuals with Disabilities in Education Act (IDEA) and an antidiscrimination law known as Section 504.
Parents should stay in close contact with all teachers and school officials. This allows them to better monitor their children's progress. Teachers of children with ADHD should follow a series of specific routines, and they should use a clear system of rewards. Teachers can also make sure that these children receive the proper care and attention.
To help your child's teacher shift her view about your child's ADHD and so better serve your child, do the following:
In a journal or notebook, write down your major concerns about reframing your child's behavior to a complaining teacher. For example, you may be afraid that your child's teacher will think you are a bad parent.
Using a scale of 1 (very unlikely) to 10 (very likely), rate the likelihood that the thing you fear will actually happen.
Now write down thoughts that contradict your fear. Include all the positive things that may result from becoming an advocate for your child. For example, if you are afraid that your child's teacher will think you're a bad parent, you could write down that he might actually think you are a good parent for having such a positive view of your child. Or maybe the teacher would begin to see that your child has many positive traits that he hadn't noticed before. He might even start to give your child more positive attention in class.
Write down strategies you could use in order to cope if the thing you fear did come true; for example, if your child's teacher said to you, "No wonder your child is so difficult. It's obvious you are overprotective of her and oppositional to boot." In writing down coping strategies, you might write down specific responses to such a statement, such as "I know you don't have all the resources you need, but I want to make sure we've looked at all the angles here. Let's stay focused on what we can do to help my child."
After reviewing your coping strategies, set up a time to meet with your child's teacher who has given you negative feedback. Share with this teacher your different vision of your child. Emphasize your goal to become an advocate for your child so that she will have the best classroom experience possible. Affirm to the teacher that he has the same goals for serving your child, but that you may have different views about the nature of your child's behaviors.
After returning from your visit with the child's teacher, evaluate your original fears. Write down all of the positive outcomes of the meeting. For example, you might write that the teacher seemed really interested in your perspective on your child and that he did not get offended when you challenged his perspective. You might also write that you hope that he will begin to see your child as gifted, give her more positive attention, and help her to improve in that class.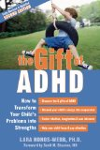 Continue Learning about ADHD