I have become convinced that most of the bad behavior of attention deficit hyperactivity disorder (ADHD) children can be solved by the same strategy:
Identifying the problem, such as, "My child does not follow directions."
Adopting a problem-solving attitude, not a blaming one.
Avoiding the urge to punish.
Making a serious effort to get inside the mind of your child.
Asking yourself and your child why the behavior makes sense.
Correcting any misperceptions and providing information that will solve the problem.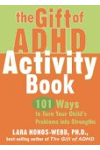 Continue Learning about ADHD