In the Information Seeker activity, you will interview your child with attention deficit hyperactivity disorder (ADHD) as if for a magazine article. Many parents feel that they know all there is to know about their child. But if you take the time to ask deep and probing questions, you may be surprised at what you learn. You can choose as your topic something your child loves to do, does well, or something he does differently than anyone else. Ask him why he does it this way, why he loves the object of his passion so much, and what his secrets are for being so good at what he does. In this way, rather than automatically assuming you know what your child does and why he does it, you are opening yourself up to learning about how the world looks from your child's eyes.

You can also apply this activity in more spontaneous situations. If you find yourself angry at your child for something he's done, maybe something that looks like defiance, remind yourself to seek more information before you express your anger. Before getting angry and handing out punishments, ask as many questions as you can think of about why your child took these actions, what he was trying to do, and what was going on in his mind. You may find information that completely eliminates your anger. You may even find that you are able to translate your understanding of the behavior from defiance to self-reliance. For example, you may find that what looked like direct defiance of your request that he clean his room was really a result of his curiosity at finding a broken toy he wanted to fix. Instead of getting to the cleanup, he sat right down to work with the toy, using his creativity to see what could be done to repair it.

It's also possible that you will still have cause for anger and a need for discipline. However, the step of asking questions and gathering information before expressing anger will still have allowed you to connect more with your child, which will increase the effectiveness of your discipline.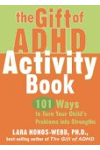 Continue Learning about ADHD