In order to create positive emotions in her life, your child with attention deficit hyperactivity disorder (ADHD) will need to have a reference point to know what it feels like to feel good. For example, if you've never had the pleasure of eating chocolate cake, you might not seek it out. This activity will give your child experience in creating positive emotions so she can know better what she's shooting for and appreciate it more when she gets there.

Your family can play a game like charades, where each family member draws a card with an emotion on it. There are two levels to the game. The simpler game, for younger children, is to just act out the emotion and have other family members guess what it is. The more difficult game is for the person who chooses the emotion to try to create the experience of that emotion in the other players.

Unlike charades, each player can speak in trying to create the emotion in other players. For example, if the positive emotion is pride, a player can say to another, "Your effort today at soccer was A-plus" or, "You're the best mom in the world." The players hear the effort to create an emotion and try to guess what emotion is being evoked. This will help your child learn about how emotions feel while also learning her own power to evoke emotions in others. Emotions are not something that we passively experience, like a TV show flashing before our eyes. We are the directors and producers when it comes to creating emotions. Some examples of positive emotional states to create include feeling: surprised, excited, love struck, hopeful, confident, happy, calm, comforted, supported, blessed, silly, powerful, encouraged, delighted, strong, secure, loved, and successful.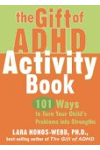 Continue Learning about ADHD