Research shows that when a child is deeply engaged in examining, exploring, and playing, he is building brain connections. This sounds wonderful, but what about all those times your child with attention deficit hyperactivity disorder (ADHD) is deeply engaged in activities that make you nervous -- climbing trees, for example. Practice checking your anxiety through one of the following strategies. When your child is pursuing an intense area of interest, you will let him proceed without interfering. Your only job in this situation is to control your anxiety. Here are a few strategies to help:
Financial concerns. Omit one expensive present, toy, or class, and each time your child engages in an activity that you feel is wasting money (cooking something that won't be edible, ruining clothes by painting or hiking, and so on), mentally chalk it up to the thing or activity you didn't buy.
Concerns about messes. If you're tempted to interfere with some of your child's activities because they make huge messes, try to remember the brain-building benefits he's gaining. When you remind yourself of what he is learning, it may be easier to resign yourself to cleaning up and/or supervising your child as you help him clean up after himself. Many times parents create just as much work for themselves by stopping activities that the child is absorbed in, only to then have to create some new project to entertain the child.
Safety concerns. Many of your fears are likely based on the realization that the things your child enjoys doing do pose some risk if they are unsupervised. The antidote here is to simply pay attention. When you might ordinarily tell your child to stop climbing the tree because it's dangerous, try allowing him to climb with your close supervision and guidance. If he gets into trouble, you will be there, ready to help, and he will gain all the benefits this activity has to offer.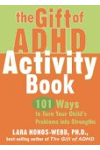 Continue Learning about ADHD