As a parent, you want to help your child with attention deficit hyperactivity disorder (ADHD) learn to tolerate frustration at the same time you want to help him stay positive. This activity will help achieve this delicate balance. Get a large piece of posterboard, and along one side write the numbers from 1 to your child's current age. At each age, write the following sentence and fill in the blanks:

"At age ______, Stan could _____________________, but he couldn't _____________________ yet."

You may want to complete the posterboard by yourself but share your process of filling it out with your child. As an example, you might say that "At age three, Stan could write and draw, but he couldn't spell his name yet." Then start the next age by using what he couldn't do at age three as what he could do at age four. Continuing the example, "At age four, Stan could spell his name, but he couldn't read yet."

Fill out the posterboard with each year of your child's life so far, showing the progression of how he mastered skills that had been out of reach the year before. If you have the time and energy, you can get creative with photos and keepsakes from the child's age pasted on the posterboard for each year. If you remember a vivid example of a time when your child got really frustrated trying to do something and can present the story in a dramatic or humorous way, that can also show your child how frustrations are part of the process of growth. The longer a child can tolerate frustration, the more likely he will persist and leap into the next challenge.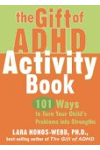 Continue Learning about ADHD