In the following cognitive behavior exercise, you will help your child with attention deficit hyperactivity disorder (ADHD) see that attitudes that lead to low persistence are obviously unproductive.
Obtain a two-sided scale or balance that allows you to put objects on both sides to see which side is heavier. If you cannot find a scale, you can do this exercise by drawing a teeter-totter on a piece of paper, writing the costs on one side and the benefits on the other, and asking your child to identify which list would be heavier. For an older child, you could ask her to draw a picture of a scale with lines below each side so she can write the costs and benefits. Also, gather a bunch of pennies to work with.
Sit down with your child and the scale (or the drawing of a scale or teeter-totter). Work with her to identify one of her self-defeating thoughts, like "Why should I try if I have a deficit disorder?" You might do this by asking her what she was thinking about herself just before she engaged in a recent distracted or frustrated behavior.
Invite your child to evaluate the costs and benefits of the thought or belief by asking her to think of all the reasons that her belief is good for her. Designate one side of the scale as the side that weighs the benefits of this belief.
Identify the other side of the scale as the side that you'll use to weigh the costs of the belief, or the ways in which the belief is hurtful to the child. Then encourage her to come up with some of these ways. Start with how the belief is helpful, as she will likely have more energy around that, and this will allow you to keep her attention and gain momentum for the game. Place a penny on the appropriate side of the scale for each reason your child gives.

After you have completed the positive side, you can then say, "Okay, let's put a penny on the other side of the scale for each of the reasons that this belief will hurt you. What can you think of?" The idea is to generate examples of how this thought leads to negative emotions and negative behaviors, which cause her to do poorly in school.
Finally, show your child how the side with the costs is so much heavier than the benefits side. You may want to briefly but explicitly make a connection to how this disparity in weight might cause her to want to change the belief. But keep in mind that she won't be able to tolerate the "moral of the story" for very long.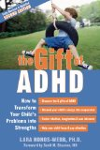 Continue Learning about ADHD