The following exercise can be played as a game with your child with attention deficit hyperactivity disorder (ADHD) to show him how he can change his mood in minutes.

Before starting the game, ask your child to rate how he feels on a scale of 1 to 10. Tell him that 1 means feeling pretty lousy and 10 means feeling awesome.

Remind your child of the balloons he has seen in parades, such as Underdog in the Macy's Thanksgiving Day Parade, or any other inflatable toy he may have seen. Tell him to sit in a chair and pretend that he is Underdog on the day before the parade -- he is just an empty, limp balloon. You can demonstrate by sitting in a chair with your arms, shoulders, and head hanging down. Tell him that you feel like a rag doll, loose and heavy.

Ask him to take a deep breath and imagine that he is being filled with air and is expanding. Play along with him and demonstrate. As you are being filled with air, stick out your chest, raise your hands in the air as if they are being filled with air, and raise your head. Imagine an inflatable person being filled with air, and tell your child to imagine this also. When your child is "fully inflated," say, "Hold it for one, two, three -- and release, blowing out all your breath." As you expel the air, make a "whewww" sound, as if air is being let out of a balloon. Tell your child that when he releases the air, he is to collapse again in a relaxed, loose, and heavy position.

Practice this exercise two more times. After you have done it three times, ask your child how he feels now on a scale of 1 to 10, with 1 being pretty lousy and 10 being awesome. It is likely that the number will be higher than the one he started with. Point out to your child that his number went up and that he was able to make that happen just by breathing and changing his posture.

Show your child how he can do this in a smaller way, without pretending to be a parade balloon -- demonstrate how to take a deep breath, hold it for a count of three, and release. He can do this anytime he feels anxious, feels upset, or has hurt feelings. This exercise will show him that he's in control of his state of mind. Also, show him that he can raise his head and hold his shoulders back, and that just this change will improve his mood and cause others to respond to him in a more positive way.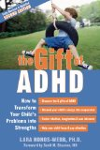 Continue Learning about ADHD