For your child with attention deficit hyperactivity disorder (ADHD), the process of reflecting on her own behavior, realizing that this behavior was noteworthy, and telling someone else about the achievement can be a far reach. Your ADHD child is driven by whims and pushed on by an inner motor that leaves little time for pausing to reflect and seek attention for completed projects or other accomplishments. ADHD kids are so excited that when they do something worthy of remark, they tend to forget about it and just move on to fulfilling the next creative whim or impulse.

However, the ability to pause and let a teacher or parent know about successes will be essential to succeeding in the world. In short, your ADHD child, while gifted in so many ways, usually is not inter- ested in or skilled at playing the "credit game." The credit game is the one that most people play too well, sometimes living their whole lives seeking credit from others and forgetting to check in with their own internal compass to see what would be the most personally fulfilling course of action.

The defiance of an attention deficit hyperactivity disorder (ADHD) child is often a reflection of a fierce self-reliance. A consequence of this quality is a disregard for seeking praise or credit for herself. You can train your child to gain this skill by starting at home with an exaggerated reward system. You can set up a "toot-your-own-horn station" with a kazoo, a recorder, a drum, a bell, and a dry-erase board. Give your child examples of what sorts of accomplishments count: finishing a project, following directions, creating a piece of art, practicing a skill, reading a book, or having a great idea. Tell your child that when she does any of these she can go to the toot-your-own-horn center and write the accomplishment on the dry-erase board, celebrating by creating a loud display of musical exclamation with the instruments you've gathered. You may need to start by asking her at regular intervals if she did anything to toot her horn about and run through a list of activities that would count.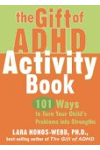 Continue Learning about ADHD