If your child has attention-deficit hyperactivity disorder (ADHD), there are a few things you and your child can do as a team:
Make sure he is getting a well-rounded, healthy diet.
Stick to a schedule that ensures enough sleep.
Try to limit the distractions in his environment.
Ask your child to sit in the front row to help him focus on tasks.
Have him write down assignments and questions to avoid unnecessary or repetitious questions, but assure him it's okay to ask for clarification of instructions. Also, use some type of graphic or visual organizer to help him keep track of assignments.
From Good Kids, Bad Habits: The RealAge Guide to Raising Healthy Children by Jennifer Trachtenberg.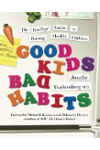 Continue Learning about ADHD