In this exercise you will help your child with attention deficit hyperactivity disorder (ADHD) to protect himself from his emotional sensitivity:
Ask your child to identify how he knows when he is getting out of control. Ask him to identify the earliest warning signs he can think of. He may describe the experience of being overwhelmed, of feeling pushed, or of feeling like there is a motor in him making him do things. Whatever language he uses to describe the feeling, validate the feeling and tell him that this is an important warning sign that he needs to pay close attention to.
Ask him to spend a week paying attention to what he feels before, during, and after every episode of feeling out of control. During this week, you're not trying to change his behavior; you are just trying to observe it. Every day after school, ask him how school went and if there was an incident where he felt out of control. Ask him to describe in as much detail, what that out-of-control feeling was like. Any time you observe him losing control, ask him to stop and observe what that feels like.
Develop a detailed sensory description of what being out of control feels like. It may be something like "I feel like a rush of energy, and I can't stop myself. Sometimes I know I shouldn't do what I'm doing, but I feel like there is a jet engine making me move.
Tell your child that he can think of this feeling as a warning signal. It means "Stop!" Ask your child to take one week to pay attention when he experiences this feeling. Whenever he gets the feeling during the week, he should practice stopping and taking a few breaths.
After having completed steps 1 through 4, teach your child to use an imaginary force field to provide a buffer between him and other people's emotions. Ask him to imagine that he has control over an invisible force field that can keep out impulses. Let him create this field in his imagination with as much embellishment as possible.
Tell your child that, for the next week, as soon as he feels his warning signal, he should practice using his force field. At the earliest sign that his warning signal is coming on, he can play this imaginary game.
When the week is over, ask your child to describe what happened when he used his force field. If the outcome was good, reinforce how much it helped and encourage him in using it. If the results were not as good as he'd hoped, help him problem solve and figure out how he could use it in a better way.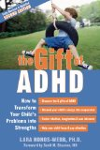 Continue Learning about ADHD