Tics -- rapid, involuntary motions or words -- are not that common with attention deficit hyperactivity disorder (ADHD). In fact, only about 7% of individuals with ADHD have tics. Sometimes the medications (stimulants) used to treat ADHD can make tics more apparent to the person and those around them. Tics often occur in older, elementary-aged children (aged 10 to 12), especially if they are exhausted or under stress. These tics are sometimes temporary and go away after a few years.
Continue Learning about ADHD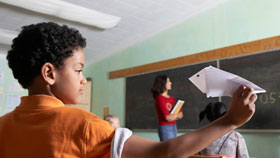 Whether you refer to it as Attention Deficit Disorder (ADD) or Attention Deficit Hyperactivity Disorder (ADHD)it's the same disorder. Impulsive behavior, hyperactivity, difficulty concentrating are symptomsand children and adults ...
can have them. Can't sit still, can't finish projects, always forgetfulthese are also part of the pattern. With medications and therapy, it's possible to control these impulses and live a more normal, productive life.
More