Children with attention deficit hyperactivity disorder (ADHD) may be treated with a variety of options, including medications and different types of therapy interventions. When a child is diagnosed with ADHD, it is usually because the child experiences a great amount of difficulty in school, at home, and with friends. Multiple ADHD treatments may be prescribed to help these children succeed.

After a thorough evaluation, different specialists may prescribe a number of treatment options for your child. These may include:
medications
individual psychotherapy
family therapy
educational interventions, including special education accommodations
social skills training groups with other children
parent training and home interventions
Even the most consistently applied treatments do not eliminate ADHD symptoms. There is no cure for this condition, but regular treatments do help many children with ADHD.
While medication is appropriate for some children with ADHD, addiction specialist Dr. Mike Dow says there are several non-drug treatments that can be just as effective. To learn about natural treatments for ADHD, watch the video.
One of the challenges of treating symptoms of attention deficit hyperactivity disorder (ADHD) in children is to engage and motivate kids who have trouble paying attention or following through. After all, if the child could follow the treatment program, she would probably have an easier time following behavior expectations in most situations and would not be exhibiting problematic symptoms. For this reason, treatment programs or self-help programs that rely on self-discipline from the child are likely to fail. The program of change should be designed to channel your child's high level of energy, curiosity, and areas of interest to help her want to engage.

The most important thing is to cast the treatment program so that it isn't about changing who your child is but rather helps her achieve the goals that she really wants to achieve. In this way, you are not working against your child but are offering your time and energy to help her get what she wants.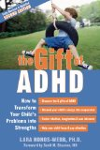 Continue Learning about ADD/ADHD Treatment