A study found that the symptoms of attention deficit hyperactivity disorder (ADHD) were relieved by time spent in nature. The study found that children were better able to concentrate, complete tasks, and follow directions after spending playtime in natural, especially green, settings. Activities such as camping, fishing, or playing soccer outside were examples of time spent in natural settings. The authors suggested that these findings were not explainable merely as a result of the subjects' physical activity. For example, playing basketball in paved surroundings did not result in the improvements in concentration that even passive activities in green settings did. Also, the results could not be attributed to the children's engagement in activities they preferred and were willing to settle down in order to participate in. The researchers found that, while children's preferred activities were watching TV or playing video games, these activities did not improve the ability to concentrate as much as playing in nature did.

The authors explain their findings by suggesting that being in nature facilitates a state of involuntary attention that is effortless and provides a rest from directed attention, the capacity to focus narrowly. The authors argue that the use of directed attention is like exercising a muscle, and it results in fatigue. The involuntary attention that is promoted by activity in nature offers the child a rest, allowing her to exert directed attention afterward. Another explanation that supplements the authors' findings is that children with ADHD have a particular attunement to nature and that feeding this need helps them to settle down. So, in some ways, children with this diagnosis need to be connected to nature and are unsettled until this need is met.

Further research support for the power of nature was found in a study of at-risk inner-city girls. The study found that the greener the view from a girl's home (meaning the more nature was visible from a window), the more that girl was able to concentrate, inhibit impulses, and delay gratification. Although this study found this effect only in girls in this sample, the results suggest that when children who have difficulty concentrating stare out classroom windows, they may be attempting to heal themselves. Another study found that students whose dorm rooms had views of nature had greater capacity to sustain attention than students without nature views.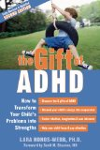 Continue Learning about ADD/ADHD Treatment