There's been an explosion of diagnosis of attention deficit disorder (ADD) in adults. Current estimates show that approximately four million adults have been diagnosed with ADD.

One reason for the increase is that, as rates of diagnosis in children increase, many parents recognize similar symptoms in themselves and seek diagnosis and treatment. Anecdotally, many adults who have found their way to diagnosis through their kids have told me that they were able to get through school in their day because teachers were willing to let them proceed without too much fuss. There is a concern that the pressure to raise scores on standardized tests has made today's school system overly rigid, and in doing so, made school much more difficult for kids with ADD.

Many parents think that in previous eras the demands of school weren't as crippling as they are now. This may explain, in part, these late diagnoses of ADD. Anecdotally, some prescribing doctors have observed that treating a parent can dramatically impact a child's ADD symptoms. This may make doctors more likely to urge parents of ADD children to seek diagnosis themselves.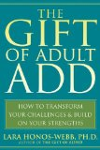 ADD is increasing in the population, a fact that frightens me, and it should frighten you as well.
There are other factors contributing to the rise of ADD and related problems in our society: An increase in processed foods and lower fat in the diet, excessive television and computer (phone, tablet) time, video games and decreased exercise.
Moreover, we are also better at diagnosing ADD. In addition to having improved psychological assessment tools, ADD has received repeated national exposure over the past 20 years. We are at least better at thinking about it and talking about it. Over the last 20 years we have seen strong interest from professionals in the medical and mental-health communities to learn more about ADD and get beyond the myths and the hype of ADD.
Healing ADD Special Offer
Continue Learning about ADD/ADHD Diagnosis