For your initial consultation, the acupuncturist needs to assess your general health. You will be asked about your current symptoms and any treatment you've received so far. It is also important to gather detailed information about your medical history and that of your family, your diet, digestive system, sleeping patterns and emotional state. The purpose is to identify what needs to be addressed in order to target your specific complaint, and to boost your overall vitality.
Stimulation of specific areas affects the functioning of various organs. However, those areas may not be close to the part of the body where you are experiencing a problem. For example, if you suffer from headaches, needles may be inserted into your foot or hand. There are 365 specific acupuncture points on the body, and an unlimited number of non-specific points. An experienced acupuncturist will use a selection of these for each session. Often during the course of a few sessions, different points will be selected as your condition changes. Other techniques, such as electro-acupuncture, massage, or tapping with a rounded probe, are particularly suitable for small children or for people with a fear of needles.

An acupuncture session is a time of relaxation for most people. You will lie face up or down depending on the condition for which you are being treated. Many treatment rooms are equipped to play relaxing music or sounds.
Typically, the first time you see an acupuncturist, you will have a longer visit. The practitioner will ask you about your medical history, diet, and lifestyle and may look at your tongue and feel your pulse. Based on these factors, the practitioner will determine the imbalance in your body and the proper acupuncture points to treat. Next, you will be asked to lie on a table and you may have to remove part of your clothing depending on what points need to be treated. Once the needles are placed, the acupuncturist will leave the room and ask you to rest quietly for 20-30 minutes. The next time you visit the acupuncturist, your session will most likely be quicker (typically an hour or less). You may require just a few sessions or several weeks of treatment depending on your condition.
Continue Learning about Acupuncture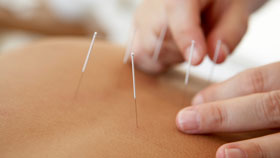 Imagine relief from back pain without medication. Imagine childbirth without the intense pain. These are just a few of the many benefits acupuncture may provide. Acupuncture originated in China thousands of years ago. It involves ...
a technique using very thin needles, which are strategically inserted in certain parts of your body. The theory is founded on balancing the flow of energy (qi or chi) through pathways (meridians) in your body. Practitioners believe that by restoring the energy flow, a re-balancing and restoration of harmony will be restored to your body. Western medicine is becoming more and more open to this ancient practice, and over the past several decades, acupuncture has been looked upon as a favorable alternative to treating many conditions.
More