Acupuncture is a respected field of medicine, and most states, provinces and countries require formal training and certification. In particular the U.S. has rigorous training standards for acupuncturists. Most states require a 4-year Master's degree in Acupuncture (MSAC) or Traditional Oriental Medicine (MSTOM) from an accredited acupuncture school. In addition, an acupuncturist must pass written and practical state and/or national board exams in order to become licensed. Training includes all aspects of Western medicine as well as Traditional Oriental Medicine.

If you live in a state that does not require licensing, choose an acupuncturist certified by the National Certification Commission for Acupuncture and Oriental Medicine. Its members are required to have a degree in Acupuncture or Oriental Medicine (Acupuncture and Herbal Medicine) from an accredited school, or have worked as an apprentice acupuncturist for at least four years, and passed both written and practical national board exams. Those who have passed the acupuncture portion of the exam are entitled to add "Dipl.Ac." (Diplomate of Acupuncture) to their names. Practitioners of Traditional Oriental Medicine have passed the exams required for the Dipl.Ac. and the Herbal Medicine exam.

There is also an advanced doctoral degree available: the Doctor of Acupuncture and Oriental Medicine (D.A.O.M.). The highest degree available in the U.S., it requires an additional two and a half years of schooling beyond the 4-year Master's degree. Research studies, a dissertation, advanced clinical training, and advanced classes are also requirements.
Continue Learning about Acupuncture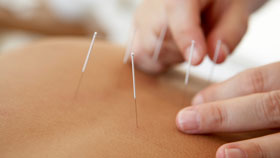 Imagine relief from back pain without medication. Imagine childbirth without the intense pain. These are just a few of the many benefits acupuncture may provide. Acupuncture originated in China thousands of years ago. It involves ...
a technique using very thin needles, which are strategically inserted in certain parts of your body. The theory is founded on balancing the flow of energy (qi or chi) through pathways (meridians) in your body. Practitioners believe that by restoring the energy flow, a re-balancing and restoration of harmony will be restored to your body. Western medicine is becoming more and more open to this ancient practice, and over the past several decades, acupuncture has been looked upon as a favorable alternative to treating many conditions.
More