Acupuncture treats all types of pain by reducing inflammation, increasing blood circulation, changing the perception of pain and breaking up local muscle spasms. Watch as acupuncturist Jill Blakeway describes why acupuncture is so effective for pain.
There are a number of theories about how acupuncture works to relieve pain, says licensed acupuncturist and oriental medicine practitioner Dr. Henry McCann. Watch this video to find out about some of them.
Sticking needles in your body seems like a strange way to treat pain, but acupuncture is a very effective way to do it, says licensed acupuncturist and Chinese Medicine expert Phil Veneziano. What this video to learn how acupuncture relieves pain.
Acupuncture is an ancient Chinese practice that uses very thin needles at very specific points on the skin to treat disease and pain. Practitioners of acupuncture undergo specialized training in these techniques and may offer this treatment for certain painful conditions.
Originally an ancient Chinese healing art, acupuncture has gained popularity in the United States in the last twenty years. The primary therapeutic approach involves the insertion of extremely thin needles just below the skin's surface. One theory behind the effectiveness of acupuncture is that the insertions stimulate the body to produce naturally occurring pain-relieving chemicals. Another theory sees the needles as a counterirritant that blocks the production of pain impulses. The process of needling is not painful, and most patients describe the insertion as a very light pinching sensation. Needles may be placed in and around the painful sites as well as at other points on the body that the practitioner feels will help relieve the condition. The needles usually remain in place from ten to fifteen minutes and are then removed and discarded. Some practitioners try to further stimulate the area by adding small electrical currents to the needles, or by using a cupping or suction technique to bring additional blood to the region.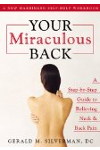 Continue Learning about Acupuncture