Lie on your back with your knees bent and feet flat on the floor. Toes point straight ahead and feet are approximately shoulder-width apart. Cross your arms on your chest. Draw your abs in by pulling the area just below your belly button toward your spine. Exhale and slowly crunch up lifting the upper body, thinking of bringing your lower ribs toward your hips. Hold the crunch position then slowly lower your upper body back to the floor, keeping your abs drawn in. Repeat 2-3 sets of 10-15 repetitions.

To perform basic crunches, lie on your back with your knees bent and feet flat on the ground. Cross your arms over your chest. Tighten your stomach, and keeping your head retracted, lift your shoulder blades from the ground, and bring your chest towards your knees. Return to the starting position and repeat for the desired number of repetitions. For a crunch, you do not have to come all the way to the knees. Doing this will engage the hip flexors and not allow the abdominals to do the work.
To perform an abdominal crunch, lie on your back with your knees bent and feet flat on the floor. Put your hands lightly on your ears. Using your abdominal muscles, crunch up about 30 degrees from the floor. You can add variety and hit different parts of your mid-section with these crunch variations:
At the same time you crunch your body up, curl your legs off the ground toward your head, and squeeze your belly button toward the floor. This will engage all three pairs of muscles-the upper with the upper crunch, the lower with the leg pull, and the middle with the squeeze.
Try doing crunches with your back flat on an exercise ball.
Lie flat on the floor and lift your knees toward your chest. In that move, you'll use more of the lower region of your abdominals.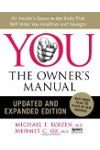 The most common exercise for abs is the crunch, or sit-ups, as they're commonly called. One reason exercise gurus don't like the word "sit-ups" is because it implies a way of performing the exercise that isn't effective. In fact, many people when doing crunches tend to lift their torso off the ground too far. Raising your body up more than 45 degrees switches the emphasis of the exercise from your ab muscles to your lower back and hip flexor muscles to pull yourself up. Also, a lot of people peel their shoulders forward, which places unnecessary strain on your upper back and neck.

The takeaway: Instead of rolling off the floor, you should concentrate on folding your upper body forward, keeping your shoulders and upper back straight -- not rounded and slouched -- as you crunch. If you're unsure, ask a personal trainer at the club.
Continue Learning about Ab/Core Exercises