6 Healthy Nighttime Snacks
If you get hungry at night, consider some options that won't disrupt your sleep.
Medically reviewed in February 2022
Updated on March 14, 2022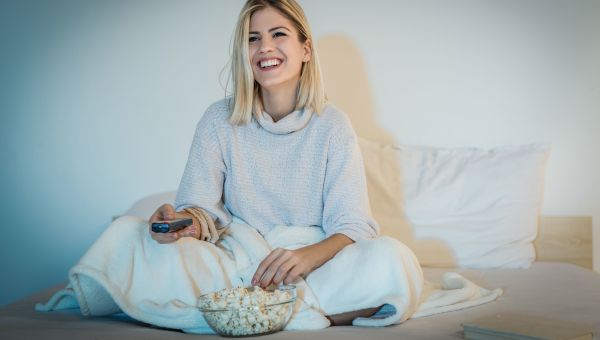 1 / 8
Sometimes hunger strikes at night but some research suggests that a large meal too close to bedtime could dusrupt your sleep. Choosing a healthy snack can help curb your hunger without keeping you up.
Ideally, healthy snacks contain whole grains, lean protein and healthy fats. Limiting saturated fats, added sugar and other "empty" calories can help ensure your snacks are not only tasty, but also have nutritional value.
Need some ideas? Here are six healthy options to try. 2 / 8
DIY trail mix
Nuts are a quick and easy snack, whether you're on the go or nestled on your living room couch.
A serving of almonds, about 24 nuts, contains just 160 calories and is loaded with healthy fat and more than 3 grams of wholesome fiber. Women are encouraged to consume about 25 grams of fiber daily, and men under the age of 50, about 38 grams. Dietary fiber can aid in digestion and help control cholesterol levels.
Try making your own trail mix by combining almonds or other nuts, dried fruit, whole grain cereal and seeds. You can save time and monitor your portions by putting single 1/4 cup servings into a container or reusable snack bag. 3 / 8
Air-popped popcorn
Air-popped popcorn is another healthy nighttime snack option.
Four cups of the made-from-scratch stuff contains just 120 calories. Popcorn also has an estimated glycemic load of just 12. Glycemic load helps gauge how much a serving of a specific food will spike your blood sugar levels, so popcorn is glucose-friendly choice.
Keep it heart-healthy by skipping the butter, which contains saturated fat. Instead, try jazzing up your nighttime snack with seasonings, like fresh herbs and spices or a dash of cinnamon. 4 / 8
Oats and berries
Oats aren't just for the morning. A hearty bowl of oatmeal, topped with berries or the season's freshest fruit, is a healthy snack you can have in the evening as well.
Oats are packed with fiber—almost 3 grams per serving—so a single bowl can help you feel satisfied. That's not all. Results from a 2014 review of existing studies suggest that oats are heart-healthy and can help keep LDL or "bad" cholesterol levels in check.
Opting for unsweetened oats can help limit your intake of added sugars and allow you to add the flavors you prefer. Try preparing some instant oatmeal with skim milk, a tablespoon of maple syrup, a dash of cinnamon and top with some fresh or dried fruit. 5 / 8
Veggies and hummus
Dipping cut veggies into some hummus is another healthy snack option you can try at any time.
Hummus is made with garbanzo beans, and a 2-tablespoon serving contains more than 2 grams of protein. You can buy hummus or make your own by pureeing the beans with some garlic and lemon or roasted red pepper.
Carrot sticks pair well with hummus. They're also loaded with vitamins and minerals, including vitamin A, potassium, calcium and fiber. Slices of bell pepper, cucumbers or celetry sticks are also healthy alternatives that can be washed and cut ahead of time. So if you're tired at night, you have options on hand. 6 / 8
Veggies and fresh guacamole
Avocados pack a powerful nutritional punch, with fiber, protein and heart-healthy fats, making them a great option for an evening snack. Combine some mashed avocado with diced tomato, bell peppers and onion for a tasty guacamole.
Crunchy tortilla chips pair well with guacamole but sliced, raw veggies make great dippers, too. Try slices of bell peppers or watermelon raddish or carrot and celery sticks. 7 / 8
Banana "nice" cream
High-fat dairy products can worsen symptoms of acid reflux and aggravate heartburn in the evening. Likewise, chocolate and coffee-flavored frozen treats could also distrupt your sleep.
One frozen treat that may not prevent you from getting the rest you need: frozen fruit puree.
Put a peeled banana or other cut and washed fruits, like mango and strawberries, into your freezer. Once frozen, blend them in a food processor a for a frosty treat. You can even add some healthy topping, such as a teaspoon of unsweetened coconut flakes or some chopped walnuts. 8 / 8
Foods to avoid before bedtime
The caffeine in coffee, tea and some other beverages can prevent you from getting quality sleep. Similarly, certain caffeinated foods can disrupt your snoozing, including puddings, ice cream and other treats made chocolate or coffee. As bedtime approaches, it's wise to avoid caffeine, alcohol and other known sleep-disrupters.
Some other foods can disturb your sleep, as well. Fatty foods, such as bacon and french fries, can worsen symptoms of acid reflux. Research suggests those who experience nighttime heartburn are more likely to show signs of insomnia and sleep apnea than those who don't.
Spicy foods can also trigger heartburn and disrupt sleep, so best to avoid these foods later in the day. Replay Slideshow