10 Fruits and Veggies That Quench Your Thirst
Drinking water isn't the only way to stay hydrated. Add these water-rich foods to your plate.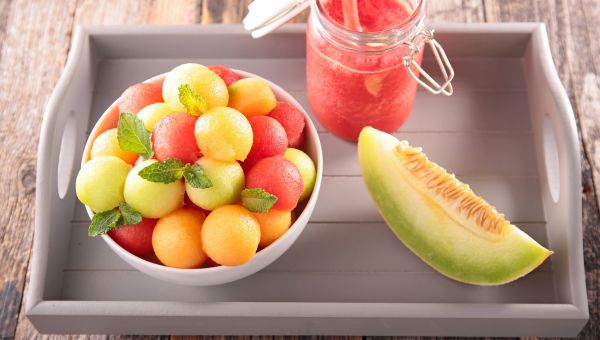 1 / 11
Your daily water intake is important for your health, especially when the weather is hot or you're working up a sweat. While the right amount of hydration varies by your size, activity level, and overall health, the National Academy of Medicine suggests that healthy women should generally consume 2.7 liters a day and men should drink 3.7 liters. Of course, drinking water is one way to stay hydrated, but you don't have to spend the entire day guzzling. Many foods—especially fruits and vegetables—contain abundant amounts of water.
Read on for some of the most hydrating produce, plus tasty ways to eat these fruits and veggies. 2 / 11
Watermelon: 91.5 percent water
The name says it all, and watermelon is a perfect snack for summer, when the heat tends to siphon moisture from your body. And water isn't the only benefit the fruit has to offer. Watermelon also contains vitamins C and A, which promote the growth and repair of the body's cells and help keep your bones, skin, and eyes healthy.
The brightly colored fruit is naturally sweet and can be added to fruit salad or blended with a bit of lime juice and poured into a popsicle mold. It also tastes great grilled. Just slice it up, brush on some honey, and get cooking. 3 / 11
Celery: 95.4 percent water
These long, green stalks are low in calories, with just 10 in a large stalk. They are also rich in vitamins A and K, making celery good for your immune system and blood health. The high water content helps keep you hydrated while the fiber fills you up and helps curb your appetite.
Try dunking your freshly washed sticks into a tablespoon of all-natural peanut butter or creamy hummus for a low-calorie snack that helps sate afternoon hunger. Or chop the veggie into bite-sized pieces and add to a green salad or homemade soup. 4 / 11
Cucumbers: 95.2 percent water
Cucumbers are filled with water and they're versatile. This green vegetable makes a quick and easy addition to any salad or veggie tray. Try serving them with a simple dip that combines plain, fat-free Greek yogurt and a blend of herbs and spices.
For an extra dose of hydration and a tasty afternoon refreshment, add cucumber slices to a tall glass of cold water. Add flavor with a lemon wedge or two and a sprig of mint. To amplify the taste, you can mash these ingredients together before topping with ice and filtered water. 5 / 11
Strawberries: 91.0 percent water
Nothing says refreshing like biting into a ripe, red strawberry. They're also packed with vitamin C and fiber, making them helpful for protecting the vitality of your body's cells and keeping digestion regular.
Enjoy strawberries in smoothies, atop a yogurt parfait, in a bowl of whole-grain oatmeal, or tossed into a lunchtime salad with chopped walnuts, spinach, and grilled chicken breast. For a low-calorie but decadent dessert, dunk a plump berry in a bit of melted dark chocolate. 6 / 11
Radishes: 95.3 percent water
They say good things come in small packages and this is true of radishes. These peppery bulbs add color, flavor, and texture to your plate. Adorn your afternoon salad with slices of this root vegetable, top your avocado toast with a crunch, or shred them into a slaw. They can also be halved and dipped into a healthy veggie dip, like one made with black beans blended with lime juice, cumin, and fresh cilantro.
In addition to delivering a hydrating punch, radishes also contain a healthy dose of vitamin C and some fiber. 7 / 11
Broccoli: 89.3 percent water
We know green vegetables like broccoli are packed with nutrients, but this one happens to be loaded with water, too. Steam and enjoy as a nutritious dinnertime side or saute with chopped garlic and olive oil for a kick of flavor and heart-healthy unsaturated fats.
If you're looking to get the most nutrients from this veggie, enjoy it raw. Add a bit of protein by pairing the florets with a side of hummus. 8 / 11
Cantaloupe: 90.2 percent water
This sweet, tender melon is low in calories—60 calories per cup—and packed with nutrients. The same serving contains more than a day's worth of vitamins A and C and even a bit of plant-based protein.
Cantaloupe makes a great addition to a fruit salad or a yogurt smoothie. Given its firm texture, it's also a great fruit for grilling. Just brush with olive oil, cook a few minutes on each side until grill marks appear, and season with your favorite herbs or spices. 9 / 11
Zucchini: 94.6 percent water
No matter how you slice it, zucchini has some seriously hydrating properties. After a long day in the summer heat, cool off with zucchini sticks dipped into a low-fat yogurt dip. You can also toss thin strips with a touch of olive oil and a sprinkle of pepper onto the grill and enjoy the tender result.
Zucchini noodles also make for a low-carb pasta option. You can make them at home using a spiralizer, slice them into ribbons yourself, or pick up pre-sliced "zoodles" at your local market. They take only a minute to cook in a pot of boiling water and they pair well with a few grilled shrimp and a tablespoon or two of pesto sauce. 10 / 11
Peaches: 89.0 percent water
Peaches are the quintessential summer fruit. They're refreshing, tart and sweet, and loaded with essential nutrients, like vitamin C, potassium, and fiber.
Their flavors are also enhanced by a little time spent on the grill. Scoot your zucchini to the side and make room to caramelize this fruit atop the coals. Serve up the warm fruit with a dollop of plain, nonfat Greek yogurt or a scoop of "healthy" ice cream. 11 / 11
Iceberg lettuce: 95.6 percent water
While it's not the most exciting leafy green in the produce aisle, good-old iceberg lettuce is worth tossing into your grocery cart on occasion. The crisp-tender leaves don't contain a ton of vitamins and minerals, but they are loaded with water. Toss this chopped lettuce into your next salad, along with spinach or chopped kale, to add some hydration. Or slice off a nice chunk and enjoy a restaurant-style wedge salad.
These large leaves also make a great alternative to carb-heavy wraps. Just add your typical sandwich ingredients, roll it up, and sink your teeth into the crunchy product. Replay Slideshow