Skip the Masks, Sort the Candy and 7 Other Tricks for a Safe Halloween
Use these tips to avoid spooky holiday hazards on the trick-or-treat trail.
Medically reviewed in December 2021
1 / 10
Halloween is a magical day for many children and a few precautions will help keep it that way. According to the US Census Bureau, more than 41 million children between the ages of 5 and 14 trick-or-treat each year. With so many youngsters scampering from door-to-door, it's no surprise hospitals see an influx of visits from costume-clad kids.
Luckily, many of these Halloween-related bumps and bruises can be prevented. To ensure the day is filled with fun, follow these safety precautions from Douglas Holtzman, MD, a pediatric emergency medicine physician at Summerville Medical Center in Summerville, South Carolina. 2 / 10
Don't get burned
Burns are among the most common Halloween-related hospital visits, according to the American Academy of Pediatrics (AAP). There are nearly twice as many fires caused by open flames during Halloween than on any other day, and they're primarily caused by flickering candles.
Dr. Holtzman recommends parents purchase flame-retardant -resistant costumes and accessories to avoid an accident should a kid bump into a candle-lit jack-o'-lantern in a rush to the candy bowl. Keep a lookout for potentially dangerous decorations, as well.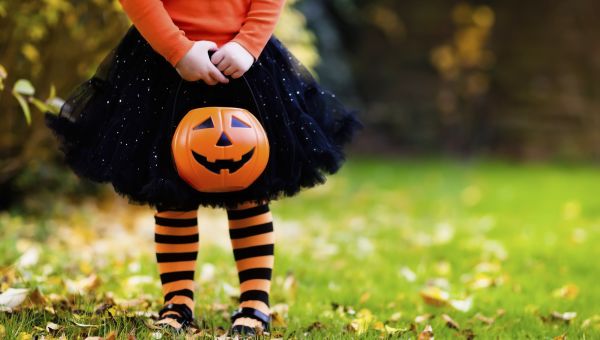 3 / 10
Pick the right costume
Scraped knees and stubbed toes are a normal part of childhood, but tripping on a costume that is too big or drags along the ground can cause more serious injuries. Sprains, fractures, lacerations and abrasions are also common Halloween injuries, all of which can be caused by trips and falls. Costumes that fit properly can minimize these risks.
Don't overlook footwear. Pick well-fitting shoes with Velcro straps or double knot the laces and retie as soon as they come loose. 4 / 10
Skip the swords
Swords and pitchforks may seem like awesome accessories—until someone gets hurt. The cost of a playful sword fight with a handheld prop that's too long or too sharp could easily result in an injury. Accessories also limit a child's ability to catch themselves should they stumble.
Look for props that are soft and flexible. If you can't find a safer option, fasten the prop to your child's costume or, better yet, leave it at home. 5 / 10
Embrace the power of the paint
Kids love to hide their identities on Halloween, but the downside is masks limit a child's vision, especially when crossing the street.
If a mask is a must, instruct your child to remove his mask when at an intersection. "You want to make sure they have good visibility so they don't miss steps or curbs or trip and fall, all for the sake of the mask," says Holtzman.
Try suggesting non-toxic face paint and a well-fitting hat as a festive and less dangerous alternative. Before creating your child's Halloween look, test the paint on a small patch of skin a day or two before to avoid an allergic reaction. 6 / 10
Get the glow
In addition to making sure your child can see, take extra steps to be sure your child is visible to drivers and other pedestrians. "They need to see and be seen," says Holtzman.
Kids tend to have very strong opinions about their Halloween costumes, but you can encourage brightly colored and reflective costumes. If your child insists on dressing in black as a Ninja warrior, you can add reflective tape to the front and back of the costume, as well as your child's plastic pumpkin or trick-or-treat bag.
Other ways to brighten the night? "There are lots of good options, from pumpkin flashlights to flashing bracelets or glow sticks," says Holtzman.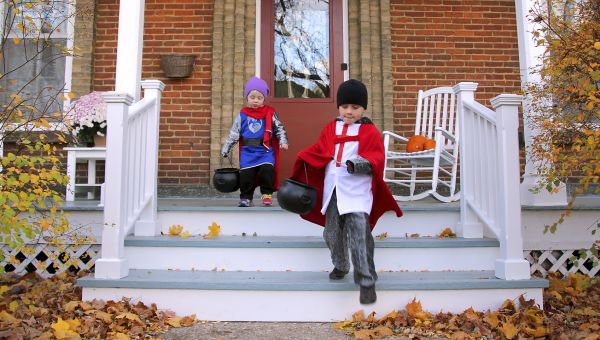 7 / 10
Know your area
Stay in well-lit areas without too much road traffic, especially when taking younger children around your neighborhood. Choose areas that are populated with other trick-or-treaters. Be cautious around busy roads and avoid crowded intersections—the "haunted" house that requires a race across a highly-traveled road just isn't worth it. 8 / 10
Use the buddy system
Children younger than 10 years old should be with a parent or an older, responsible sibling or friend on the trick-or-treat trail. Older kids who may be out without parental supervision should visit houses with porch lights and never enter anyone's home. You should also insist that they trick-or-treat with a group of two or more friends.
Your community may also offer kid-friendly Halloween events, too. "There are lots of places that do 'trunk-or-treat,' where kids trick-or-treat out of the back of people's cars," says Holtzman. Trunk-or-treat usually takes place in school and church parking lots, where parents can decorate the trunks of their cars and let kids collect candy. 9 / 10
Swap treats for toys
It's tough to find healthy candy options on Halloween, but other treats can be just as fun. The Teal Pumpkin Project promotes inclusion for kids with nut allergies by handing out non-edible treats like stickers and bubbles. "Kids love bubbles, stickers and glow sticks," says Holtzman. "Just be careful not to give out treats that could be choking hazards to little ones."
If you let your child enjoy some sweets Halloween night, candies like Skittles or Starburst are typically nut-free, but double check the ingredients to be safe.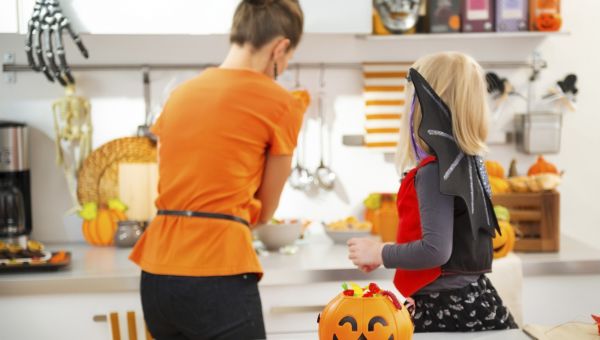 10 / 10
Sort The Stash
Parents have long been warned against hazards lurking in their child's loot and are encouraged to check kids' candy as soon as they arrive home. "If anything looks remotely suspicious or like it may have been tampered with, throw it away immediately," says Holtzman. To be on the safe side, throw away any fruit that is not prepacked and opened.
He also suggests separating treats by type. "That way you can ration the amount of sugar intake," he says. Many treats, even the fun-sized candies, are filled with sugar, so knowing how much and what kind of candy you kids are munching is a good idea. Replay Slideshow