Self-Harm Rates Among Teens Are Climbing—Here's How to Help Them Heal
Social media and bullying are just two reasons why.
Medically reviewed in February 2022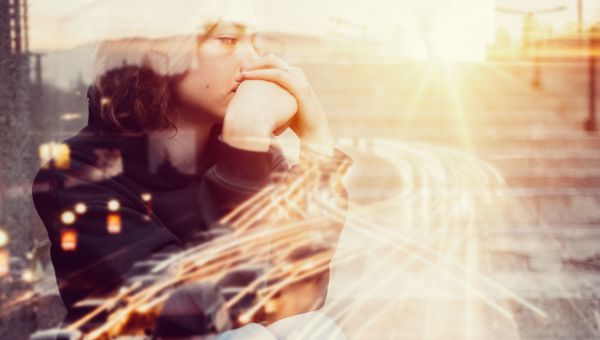 1 / 8
It's hard to imagine feeling so much emotional pain you harm yourself to make the heartache disappear. Yet, in an effort to cope, some teens and young adults turn to non-suicidal self-injury (NSSI)—like cutting, burning, self-hitting or scratching—as a way to deal with difficult, painful or overwhelming feelings.
"Those who engage in NSSIs are seeking a way to calm themselves, or to cope with negative emotions," says Allison Kress, Psy.D., a clinical psychologist in Seattle, Washington, and leading expert in cutting and self-injury.
Kress says self-injury is very common and appears to be on the rise. A November 2017 research letter published by JAMA: The Journal of the American Medical Association, found that self-harm among girls ages 10 to 14 has nearly tripled since 2009. Dr. Kress cautions that if it isn't properly addressed, the practice can continue into adulthood, and in some cases, even escalate. 2 / 8
Learn to recognize those at risk
Although the medical community once believed self-harm only affected young, white females, Kress says NSSIs affects both boys and girls, as well as all ethnicities and sexual orientations.
Those who identify as lesbian, gay, bisexual, transgender or queer may not have a strong support system and may be grappling with their sexual orientation or experiencing some form of bullying, which increases the risk of self-harm.
"Social media has taken bullying to an entirely different level and has led to less interpersonal communication," she says. "As a result, teens often feel isolated, and don't know how to navigate the stresses of social media."
Kress says other risk factors for self-harm include low self-esteem, difficulty communicating, a history of emotional problems, anxiety, impulsive behavior or being victims of physical, sexual or emotional abuse.
"Self-harm can become a primary coping mechanism," Kress says. "The problem is the relief is usually short-lived and has the possibility of escalating if a person doesn't learn how to regulate their emotions." 3 / 8
Seek treatment to identify triggers and cope
Most who engage in self-harm feel isolated and alone, and Kress says while they may want to stop cutting, and perhaps have even tried to end the behavior on their own, they don't always have the tools and support needed to be successful.
"Self-injury isn't done to elicit attention," Kress says. "It occurs among those who lack problem-solving skills or have difficulty putting their feelings into words."
To help with this, an important part of the recovery process involves dialectical behavior therapy (DBT), a practice that helps clients manage painful emotions and improve communication skills. DBT uses talk-based therapy to pinpoint and change negative thinking, regulate emotions and master coping skills.
"The goal of DBT is to help clients identify what triggers their feelings of self-harm and to help them learn coping skills to feel better without harming themselves," Kress says. "By changing the way they think or respond to a situation, they can change the way they feel and prevent relapses later in life." 4 / 8
Don't overlook the root cause of self-harm
In addition to DBT, Cognitive Behavioral Therapy (CBT) is used to break the self-destructive cycle of self-injury, while also identifying underlying health issues that need to be addressed. CBT teaches how to change unwanted behaviors by showing people how to change their thought patterns.
"Cutting is a symptom, not the primary issue causing them to engage in self-harm," Kress says. "Just treating the cutting is like putting a bandage on the problem. It's important to also determine what's going on below the surface, and whether a person is also suffering from anxiety, depression, bipolar disorder or an eating disorder."
Kress says it's also imperative that clients identify their triggers for self-harm and develop new coping strategies. While everyone has different triggers, Kress says common examples of triggers that can lead to self-harm include: being bullied, abuse and fighting with family or friends.
In severe cases, medication, such as an anti-depressant, may also be prescribed. 5 / 8
Boost endorphins to help with recovery
The act of cutting releases endorphins in the brain, creating a sense of calm and helping the body deal with pain and stress, says Kress. An addictive behavior, it can also prove dangerous causing excessive blood loss, permanent scars, infections and sometimes life-threatening injuries.
"In therapy, clients are taught coping skills and ways to boost endorphins naturally, replacing self-harm behavior with healthy activities such as exercise, journaling, spending time with friends or listening to music," says Kress. "Without mastering alternative coping skills, self-harm can continue into adulthood and lead to increased depression and anxiety."
Kress says that emphasizing healthy behaviors including eating well, getting enough sleep and engaging in regular exercise can help to deter the urge to engage in self-harm and prevent relapses. 6 / 8
Be aware of relapses
Without therapy, teens who self-harm are at a higher risk of suicide, and may become adults who use self-injury as a coping mechanism, says Petra Steinbuchel, MD, medical director for Mental Health and Child Development at UCSF Benioff Children's Hospital in Oakland, California.
"Scars on their body can lead to guilt and retrigger the issues that led to them cutting in the first place," she says. "It's important for people with NSSIs to learn how to ask for what they need so they don't resort to cutting."
Dr. Steinbuchel says many teens and adults may believe they have their NSSIs under control, only to find themselves relapse.
"Setbacks aren't uncommon," she says. "A major life event such as the death of a loved one or feeling emotionally overwhelmed are situations that might lead to a relapse."
And while relapses can be frustrating, Steinbuchel advises not to look at them as a sign of failure, but rather that you might need additional support, or to revisit therapy for a brief period of time. 7 / 8
Families should feel empowered to offer support
Family-centered treatment is often used when working with children and teens who engage in self-injury.
"It can be difficult for families to understand why their loved one is harming themselves," says Shelly Nakaishi, a nurse practitioner in the Department of Psychiatry at UCSF Benioff Children's Hospital in Oakland, California.
"Rather than saying something like, 'What's wrong with you?' we encourage them to say, 'It sounds like you are in a lot of pain.' and to encourage them to talk about it, if their child chooses to do so."
Telling a family member to quit cutting cold turkey is unrealistic. Instead, Nakaishi encourages parents and loved ones to formulate a plan which can include therapy as well as assessing whether their family member's behavior is being done to cope with feelings, or whether their intention is to commit suicide, in which case they need immediate medical attention. 8 / 8
Moving past the scars and stigma
The scars associated with self-injury remain long after recovery from self-harm, and often serve as a reminder of a painful past. Certain people choose to cover up their scars with clothing, while others search for a way to remove or fade their disfigurements.
"The scars can cause shame in some people and lead to body image issues as well as unwanted questions," Steinbuchel says. "Some choose to get tattoos to cover the scars, while others find success using scar reduction creams or getting procedures such as laser resurfacing."
Treatments for scars depend on their severity and where they are on a person's body. Some have found relief in using makeup, while others have turned to surgical procedures such as skin grafts.
Steinbuchel says the decision on how to handle scars is a personal one and often depends on whether people feel comfortable sharing their story. Replay Slideshow