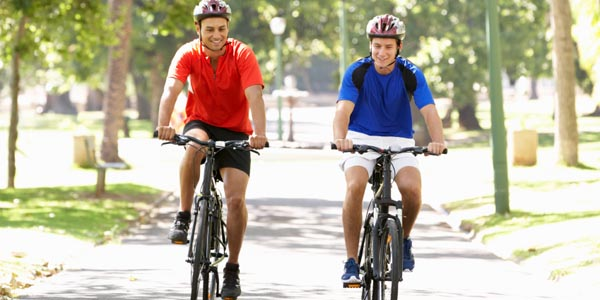 I'm not exactly a loner, but I've always been a self-starter. As a kid I shunned team sports in favor of individual ones, like skiing, dancing and horseback riding. I wasn't a Girl Scout (though now I wish I had been) and I was just never big on joining things.
For years this individualist streak served me well. I did join some teams in high school, but the sports -- swim team and track -- were still based on my own performance. This carried through to college as well, as I set my sights on adventure sports, including rock climbing and kayaking. Yes, the folks I climbed with certainly worked with me in a makeshift team, but ultimately, it was my own strength or weakness that was going to get me up a cliff.
My husband's athletic experience couldn't be more different from mine. He grew up playing soccer and baseball on teams and continued with team sports into college. When we me he was a football player at Cornell, which Jon will tell you isn't all that impressive, but I certainly thought so. Unlike me, Jon loves the camaraderie that comes with being on a team and hopes that our kids will get to experience those benefits at some point.
I still haven't joined a team of any type, but I have found a way to commit myself to a larger group. I attend outdoor boot camp-style classes in our local park. The group changes depending on the season and fluctuating work schedules, but I always know that if I show up, there will be someone else there to help keep me on my game and inspire me to do my best. Hill sprints go much faster when you've got a "teammate" egging you on to go faster! It might not be a traditional team, but my fellow boot campers keep me committed and coming back for more. And indeed, research has shown that working out with a partner (even a virtual one) increases performance.
This partner benefit translates to healthy eating as well. There is substantial evidence that the buddy system is a positive factor in weight loss. Don't just grab your cubicle mate or best friend though. Look for a healthy eating partner with a similar schedule who wants to communicate in the same fashion, i.e. face to face or via text. A good healthy eating partner will keep you honest, help motivate you when the going gets tough, and will also celebrate your wins. There are even websites that can help you find your perfect diet buddy, but you may also have luck finding someone at your local gym, school, church or temple. Put some feelers out and be open to sharing your health journey with a new friend. For more tips, check out
How to Find the Perfect Health Buddy
.
Good luck teaming up!
Yours in health,
Frances