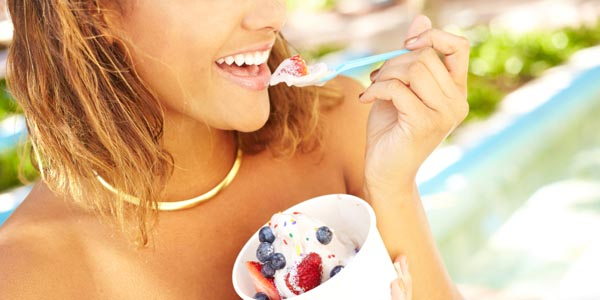 Summer means tank tops, sundresses, shorts and bathing suits, and baring a whole lot more skin than we do the rest of the year. As I was packing away (finally) my family's sweaters and hats and pulling out the swim trunks and cover-ups, it got me thinking just how important it is to take care of all that exposed skin.
Of course, wearing a sunscreen with an SPF of at least 30, donning a hat and seeking shade are the best ways to prevent sun damage. But science is also showing us that what we put on our plates can make a real difference in our skin's health.
I recently interviewed a dermatologist for Sharecare and was happy to hear that many of the healthy foods that are already part of my diet are also skin-boosters. Berries help fight the signs of aging with the vitamin C, resveratrol and phenolics they contain. The albacore tuna I like to put on my salads may actually lower my risk for certain types of skin cancer. And those almonds I love to sprinkle over my oatmeal and into my smoothie bowls are an excellent source of vitamin E, which is a must-have nutrient for skin protection. Dig into the list of all of the skin-loving foods (with recipes to boot)
here
, then load them onto your plate for gorgeous, healthy skin for life.