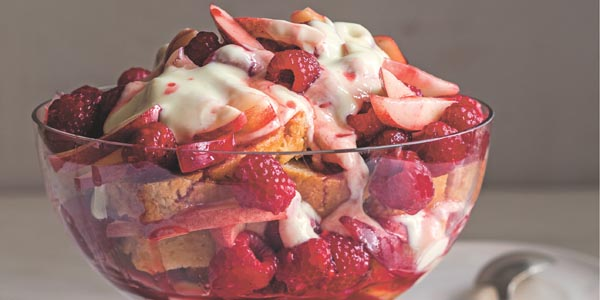 I'm changing things up this week and instead of sharing my musings on what's going on in the world of nutrition and health, I'm going to share a recipe. Memorial Day—the unofficial start of summer—is right around the corner and that means that you're likely planning celebrations with friends and family—yay!
I love Memorial Day parties because there's so much anticipation of all those delicious summer memories that are about to be made. To me, it's that wonderful sense of looking forward to all the fun that's almost better than the lazy, days of summer. To celebrate, I usually bring a dish full of my
Berry-Nectarine Trifle
from
Eating in Color
, which highlights juicy late-spring fruit. I usually use raspberries and white nectarines, but you can also use strawberries and peaches.
Along with the ripe, seasonal fruit, the thing that really makes this dish so special is the homemade Meyer lemon pound cake that it's made with. I love Meyer lemons—I even have a tree in my backyard—and this pound cake is full of their delicious juice and zest, but you can use store bought pound cake to save time.
Give the trifle a try—it looks amazing in a glass trifle dish—and please let me know how it turns out for you. However you celebrate this Memorial Day, I hope that you'll be thinking about all the fun and healthy activities you'll be enjoying all season long. Here's to summer!
Yours in Health,
Frances
Image by Quentin Bacon from Eating in Color